ARCHIVE- JUNE 2001
---
Friday 29 June. 2001- This page have experienced some difficulties
By Ljubisa Bojic
Sorry to all. So far we have not made good network of writers and co-writers, and due to technical reasons we have not been able to publish news. Today we shall monitor Jelena progress in doubles and mixed doubles. You can read Jelena's interview from the second day and take look at some photos from current tournament.
---
Thursday 28 June. 2001- Fantastic win over Jennifer Hopkins of America
By Ljubisa Bojic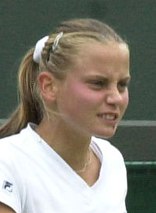 Jelena is really playing hot this tournament. As she goes from match to match she is better then before and maybe she can even get to the finales as some tennis experts say. Definitely Wimbledon is her tournament . Jelena will face Barbara Schett or Nathalie Dechy in the next round. In the fourth round, she would then play against Davenport. Some of statistics from the last match:
Dokic Hopkins

1st Serve %

29 of 45 = 64 %
26 of 49 = 53 %

Aces

4
1

Double Faults

0
3

Unforced Errors

20
27

Winning % on 1st Serve

23 of 29 = 79 %
15 of 26 = 58 %

Winning % on 2nd Serve

11 of 16 = 69 %
10 of 26 = 43 %

Winners (Including Service)

21
6

Receiving Points Won

24 of 49 = 49 %
11 of 45 = 24 %

Break Point Conversions

4 of 7 = 57 %
1 of 1 = 100 %

Net Approaches

8 of 13 = 62 %
8 of 16 = 50 %

Total Points Won

58
36

Fastest Serve

101 MPH
103 MPH

Average 1st Serve Speed

95 MPH
94 MPH

Average 2nd Serve Speed

81 MPH
83 MPH
---
Wednesday 27 June 2001- Jeca with Conchita Martinez won match against Ruxanda Dragomir Ilie and Andrea Glass.
By Ljubisa Bojic
Great match was today when Jeca made progress in doubles with result 4-6, 6-0, 6-0. In Friday, she will play on Court-14 with Conchita Martinez against Emilie Loit and Anne-Gaelle Sidot. After that, she will play a mixed double in the 5th match on the same court with partner Jeff Tarango against Chanda Rubin and Jeff Coetzee.
---
Tuesday 26 June. 2001- Jelena defeats Rossana De Los Rios
By Ljubisa Bojic
Dokic's first match at Wimbledon was very good. With a 7:5, 6:1 win, Jeca proved that she is grass specialist. It is important that she doesn't lose concentration during matches in the future. There have been rumors that Damir was smoking during the game witch is forbidden by the rules of tournament. Due to technical reasons, I could not publish new articles in news section. My apologies for inconvenience I have made.
---
Monday 25 June. 2001- Wimbledon starts today
By Ljubisa Bojic
Unofficial tennis championship of the World starts today. It is time for players to show their real strength and what they have done since last tournament. I have published this web page yesterday and have done some promotion before that, so I hope the page will be visited a lot. Only 3 words:
GO Jelena GO!!!
---
Sunday 24 June. 2001- Yugoslav presedent Vojislav Kostunica maybe coming to Wimbledon as a spectator
By Ljubisa Bojic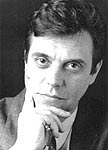 If Jelena goes to semi-finales of Wimbledon cup, Vojislav Kostunica president of Yugoslavia would come to watch the game on the central court. Jelena promotes Yugoslavia very good and possible appearance of Kostunica on the court would prove that. The virtual team of Jelena Dokic will try to contact government officials to arrange the Kostunica visit. Kostunica watched a football match in Belgrade stadium of "Marakana" few months ago.
---
Saturday 23 June. 2001- Tempo magazine published pre Wimbledon report and Dokic expectations
By Ljubisa Bojic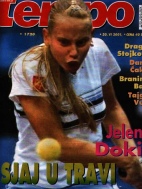 With the title "Back again on the place of success", two pages article about Jelena Dokic's chances on Wimbledon starts. Two years ago, she surprised world as she qualified for the first round of Wimbledon and defeated no more or less than first lady of women tennis - Martina Hingis. Then, she was 16 years old, and she went to the semi finales. Last year she lost from Linsday Davenport 6:4, 6:2. There are some info on such as that Wimbledon club was founded in 1868, and that the prize fond of this year is $ US 10 million. This year the tournament will start on 25 Jun. and will finish on 8 July. Much longer text and many information will follow this article in future.
---
Friday 22 June. 2001- Dokic lost from Kim both in singles and doubles
By Ljubisa Bojic
She could win the match but she played just like she is having practice for Wimbledon. She played well and tried so many new ways to get her points. After this training we can hope good performance on the Wimbledon for just 3 days.
---
Thursday 21 June. 2001- Jelena is continuing her good performances at Heineken cup
By Ljubisa bojic
She defeated Nagyova 6-2, 6-0. Next Jelena will face Kim Clijsters. We are hoping good concentration as in last two matches and Jelena will beat her for sure. I fact I am 50% sure she will because of great challenge and fantastic fit. Only thing that can oust Jelena from tournament is if she does not think serious about opponent. It is important for Jelena to think about her opponent as a hardest one. I am sure she is thinking about Kim much more then of Mandula. Kim and Jelena have met five times and Jelena defeated her 3 times. So what we have here is advantage for Jelena. But everything depends on Jelena's concentration.
---
Tuesday, 19 June. 2001- Jelena can expect Linsday Davenport in 4th round of the Wimbledon 2001 official said today
By Ljubisa Bojic
The Wimbledon 2001 official website announced the main draws both of Singles and Doubles today.
Miss Dokic will play Rossana De Los Rios (PAR) in the opening round before meeting either Mariana Diaz-Oliva (ARG) or Jennifer Hopkins (USA) in the next round. She has been drawn to face 3rd seed Lindsay Davenport (USA) in the 4th round, and 7th seed Kim Clijsters (BEL) in the quarter-finals.
In the Ladies' Doubles event, she will team up again with Conchita Martinez (ESP). They have been seeded No.7 and drawn to play Ruxandra Dragomir Ilie (ROM) and Andrea Glass (GER) in the 1st round, and the 9th seeded pair of Kim Clijsters (BEL) and Ai Sugiyama (JPN) in the 3rd round.

---
Monday 18 June. 2001- Jelena defeated Mariana Diaz-Oliva
By Ljubisa Bojic
First match after defeat in Edinburgh was psychological hard for Jelena but she made it. Playing Heiniken cup on grass in the Netherlands in first round ousted Mariana Diaz-Oliva. Some info on Mariana:
Birth Date : 11 Mar. 1976
Turned Pro : Sep. 1992
Current rank for singles : 47 (as of 18 Jun. 2001)
Head to Head : 1-0
Jul. 1998 KB Fed Cup (carpet) : G1-PO (W) 6-2, 6-2.
---
Wednesday 13 June. 2001- Dokic lost in 2nd round in Edinburgh
By Ljubisa Bojic
Jelena Dokic suffered a 2nd round loss to Australia's Alicia Molik, 6-4, 3-6, 3-6 at today's 2nd match on the Center Court in Edgbaston. Alicia Molik will now face Miriam Oremans of the Netherlands, who defeated Australia's Evie Dominikovic, 6-1, 6-4 at today's 2nd match on the Court-1
---
Monday 11 June. 2001- Special reward for Jeca from Writers association
By Ljubisa Bojic
The WTA Tour officials announced today that Jelena Dokic was named "Nasdaq Player of the Month" for May and she was voted on by members of the International Tennis Writers Association. This year's "Nasdaq Player of the Month" winners are Jennifer Capriati (January and April), Amelie Mauresmo (February), Venus Williams (March) and Dokic (May).


---
Sunday, 10 June, 2001 - Jelena and Conchita out of power at Roland Garros double finales
By Ljubisa Bojic
Dokic and her partner Conchita Martinez were beaten in the women's doubles final by the 2nd seeded pair of Virginia Ruano - Pascual and Paola Suarez, 2-6, 1-6 at today's opening match on the Court-1.

---