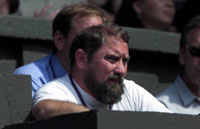 Damir Dokic
For people who do not know, we are talking here about Jelena's father who was boxer. He is a strongman in the family. He battled a way of prosperity and future for Ljijana and Jelena.
In the following articles of Australian, American and English press, Damir was accused for many crimes
Because of that, Damir wanted to have his own web site where he can tell 'The Truth and Nothing but the Truth'. "It would tell the truth basically, tell his side of the story, what the media said versus what he said."
His daughter support Damir 100%. Jelena adores him. However, statements of Aussie medias that Jelena does not make decisions based on her own free will, but based on Damir's will are false.
What is background of Damir's "abusive behavior" which even got him a nickname of "mad dad"? That has not been investigated by any of media. His native country Yugoslavia was bombed at that time in 1999. I think he was stressful because of horror made to his own people by countries where Jelena was playing tennis at the time. He does not have any police record and any other abusive behavior except that on tennis courts. Maybe that behavior was directed purposely in order to get attention to the crime committed by those countries. That is the reason he dubbed those countries "the racists".
To conclude, I offer Damir to contact me at webmaster@dokicjelena.com in order to make that website where people can here his side of the story.
So here is what fans say:
I've said it before and I will continue to back Damir Dokic as a good father. He has had to make a lot of sacrifices for his daughter and I believe he loves her very much and Jelena seems to adore him. He just needs a few lessons in the rules of Good Public Relations and perhaps needs to stay of the bottle and start drinking mineral water. A shave wouldn't go miss and perhaps learning English might stand him in better light with the press. If he takes my advice there is no question Jelena's game will benefit and will not be distracted like it will surely be against Rippner.

Alain Desmier

He said " I would become a new man to help my daughter Jelena's career prosperity", and that he "needed to behave better". Then, after the ban that was six months long, Dokic family is again on tennis courts watching and supporting their special girl. No incidents have been reported yet.
The following is the record of incidents he was accused for before the ban:

Aug. 1999, Birmingham, England:
Damir is ejected from a tournament after calling match officials "Nazis." He later went into the street outside the arena, blocked traffic and jumped on the hood of a car and was arrested.

Jan. 2000, Australian Open:
Accuses officials of rigging draws against his daughter and threatened briefly to pull her off the Australian Olympic team.

Jan. 2000, Australian Open:
Attacks television cameraman outside the players' hotel. The footage of the incident showed Damir striking out at the cameraman, a broken microphone in his hand, and later offering $500 to buy back the tape from Seven Network. Damir should know that requests like that never work - it didn't work for Tommy and Pamela Lee, it's not going to work for Damir Dokic.

June 2000, Wimbledon:
Barred from the tournament after wrapped a British flag around himself and shouting at spectators, and later breaking a journalist's mobile phone.

Sep. 2000, U.S. Open:
Ordered off the grounds at the National Tennis Center for abusive behavior in the U.S. Open players' lounge, apparently over the price of a salmon platter. He later receives a 6-month ban from all WTA Tour events for this incident.

When reporter, Clare Brady,
called Damir during this week's Australia Open requesting an interview, Dokic told her he was having sex while they were speaking and the reporter "was invited to his room only if (she) came along, so (she) could watch". It is also claimed that Dokic would only grant the station an interview if the reporter agreed to appear "naked".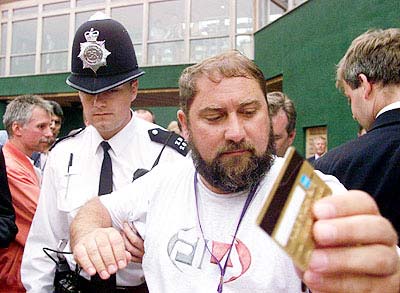 And here are articles. No one from these reporters and "objective" journalists did not ask Damir for his replay on this behavior:

JUNE 29, 2000 Lisa Dillman
Los Angeles Times
WIMBLEDON, England -- Only mad dogs and Englishmen go out in the midday sun?
Apparently, Noel Coward, the author of that famous line, didn't know Damir Dokic.
Dokic, a Serb based in Australia, draped in the flag of Saint George, appeared to be drunk on the press balcony at Wimbledon on Thursday.
He was maniacally laughing and shouting, wandering from topic to topic, among them the Queen of England, the Women's Tennis Assn. and President Bill Clinton.
Dokic -- whose 17-year-old daughter, Jelena, had won her second-round match, 7-6 (7-5), 6-2, against Gala Leon Garcia of Spain -- then turned violent, tossing the cell phone of British television reporter Mark Saggers of Sky News onto the ground and breaking it into three pieces. Dokic was taken away by police and detained but was not charged.
What was first a strange incident on the press balcony turned violent and threatening as Dokic yelled, "This isn't last year!" referring to Birmingham.
After Saggers invited the Dokics to appear on Sky TV, Damir asked to borrow his cell phone, saying his wasn't working.
"I gave it to him. He picked it up, looked at me and smashed it and also raised his arm at me," Saggers said. "I definitely felt threatened by him. . .. It (the phone) could have come flying off the balcony and hit a young kid."
Then Damir Dokic made a show of asking for a credit card from his subdued wife, Liliana, and offered to pay for the phone.
Saggers joked about the smashed phone ending up in the Wimbledon museum. On a serious note, though, he said: "I don't particularly want to see the guy again, really."
Damir Dokic thrown out
Father involved in fourth incident in 14 months
Latest: Wednesday August 30, 2000 10:00 PM

NEW YORK (Reuters) -- Damir Dokic, the often out of control father and coach of Australian teenager Jelena Dokic, was thrown out of the U.S. Open on Wednesday after throwing a tantrum in the Players Lounge over the price of salmon.
The burly, bearded Dokic became enraged over the $10 price tag for a slender portion of salmon at the Players Lounge and was escorted out by tournament security after aiming an abusive tirade at a food server.
Later, when he tried to re-enter the complex that houses the players' lockerroom, lounge and dining room with his daughter, Dokic was turned away by head of tournament security Pete Pistole, who forcibly herded him through the parking lot.
Damir, holding his arms outstretched to show he was not returning the physical force Pistole was applying, shouted: "Look America, look what happens in your country," said witness Shahrnaz Kemal of Pakistan.
Later, screaming profanities at Pistole and other officials as his 17-year-old daughter, a Wimbledon semifinalist this summer, stood tearfully by, Dokic was led to a policeman who told him to leave the premises or face arrest.
Officials said Dokic, who finally got into a courtesy car with his daughter and was driven away, would not be allowed back on the National Tennis Center grounds.
Jelena Dokic is into the second round of the tournament after beating Israeli Anna Smashnova. She next faces Miriam Oremans of the Netherlands -- but without her coach.
A native of Yugoslavia, Dokic is three-quarters of the way to a Grand Slam of boorish behavior after previous incidents at Wimbledon and the Australian Open.
At the 2000 Australian Open, he was accused of assaulting a cameraman. At Wimbledon two months ago, he was escorted off the grounds after a drunken rage in which he smashed a broadcaster's cell phone to the ground.
In June 1999, he was cited for drunk and disorderly conduct for lying down in the middle of the road after being thrown out of a tournament in Birmingham, England, for being verbally abusive at the matches.
"Damir Dokic, the father of Jelena Dokic, was removed from the grounds as a result of abusive behavior in the player lounge earlier today," tournament director Jay Snyder said in a statement.
"He will not be allowed back on the grounds for the remainder of the U.S. Open. The Sanex WTA Tour was consulted and fully supports the decision," Snyder added.
WTA Tour chief Bart McGuire said in a statement: "The Sanex WTA Tour consulted with the USTA and fully supports their decision in banning Damir Dokic for the remainder of the U.S. Open.
"Based upon Mr. Dokic's past history of such incidents, a formal review is being conducted to determine what additional action will be taken by the Tour. The Tour will announce its decision shortly after the U.S. Open."
Dokic backed, father denies sex claim
By KAREN LYON
Wednesday 17 January 2001
Jelena Dokic may or may not have played her last match for Australia, but her threat to play for Yugoslavia will have to be realised despite the entreaties and persuasion of her former countrywomen.
The Australian women's contingent playing at the Australian Open yesterday, many of whom have played Fed Cup with Dokic, intend to approach Dokic and ask that she not only reconsider her decision but rejoin their ranks for the next Fed Cup tie in April.
Nicole Pratt, a first-round winner yesterday and the woman who through no act of her own has succeeded Dokic as Australia's highest-ranked player, said the Australian women hope to convince Dokic to abandon her plan. "Hopefully it will all get sorted out in the next month or so," Pratt said. "We have a Fed Cup tie in April and it would be great if she could play."
But while Australia's women were revealing their plan to woo Dokic back into their fold, another unseemly and typically confusing episode involving Damir Dokic unfolded. Channel Seven - the official television network of the Open - alleged that Damir Dokic had demanded sexual favors from a female reporter in exchange for an interview.
Further, Seven claimed Damir Dokic would only grant the station an interview if the reporter agreed to appear "naked". According to Seven, when the reporter, Clare Brady, originally called requesting an interview, Dokic told her he was having sex while they were speaking and the reporter "was invited to his room only if (she) came along, so (she) could watch".
Last night, Dokic did not deny making the comments but said they had been made in jest and misinterpreted by Brady.
"She was just want(ing an) interview and she tell me: `My bosses tell me I can't go (from) in front of the hotel if I don't have (an) interview with you'," Dokic said.
"She wanted to come into the room but I said no. I make fun of her ... after that, I told her please stop joking. Now I am very serious."
Before defending his conduct last night, Dokic had granted only one interview yesterday, with Perth radio station 6PR, in which he again alleged that Australia was a racist country.
This more characteristic outburst from Dokic, and the many others that have preceded it were clearly not being held against Jelena by Pratt and the likes of Evie Dominikovic. Pratt said: "From the players' point of view, we are behind her 100percent."
She said she had spoken with doubles specialist Rennae Stubbs and the women "were quietly hoping there might be a chance" Dokic would come back.
"She would be welcomed with open arms ... she is a great girl," Pratt said. "I don't think Jelena is making all her own decisions ... She is very close to her family. All we can do is talk to Jelena."
Dominikovic, the 20-year-old Sydneysider who was a shock winner over Swiss star Patty Schnyder yesterday, added that she believes Dokic's absence from the Australian team will only be temporary. "I am sure Jelena will be back," she said.
It also appears Damir Dokic's claim that he would pull his daughter out of the Open regardless of her first-round result seems to have been a hollow threat, as the teenager is still entered to play doubles with Jennifer Capriati.
Jelena did not know about her father's threats to pull her out of the tournament even if she had defeated world No.2 Lindsay Davenport on Monday night, and the teenager plans to play both women's and mixed doubles at the tournament.
Dokic will alternate between living in Belgrade and Florida.
Journalist MATTHEW McGRAIN story
MATTHEW McGRAIN: Well, I was up in the players' lounge at the time – it's a split-level building, and I was in the upstairs area where a number of the players were mingling and lounging around in the chairs, and heard a bit of a disturbance going on, and I looked around and sure enough, it was Damir Dokic whose face is very familiar to me after an incident at the Australian Open earlier this year, and he was having a bit of an altercation with some of the officials.

Anyway, the next thing his voice is getting louder and louder, he's
ripped his photo ID accreditation off from around his neck and thrown it on the ground and stamped on it, then some security guards have been called in and they've actually taken him by the arm and asked him to leave. He's started to walk out, then all of a sudden he swung around, reached out for the accreditation around his daughter's neck, ripped it off her neck and thrown it at the officials, at which time he then seemed to gladly leave with the security guards.

And then what happened, they took him outside, and he refused to
actually leave through the gates, so they started pushing him in the stomach, pushing and shoving him, and it became a bit heated at that stage. He asked them not to touch him and to leave him alone, but they continued to pressure him out through the gates and into the car park, where some more officials came up.

And I was about 20 metres away at the time, and you can actually hear some of the altercation. Here's some of what was said.

SECURITY GUARD: … you're to leave or you're under arrest. Make a choice! Listen to me!

MATTHEW McGRAIN: So you can hear there that he was actually threatened with arrest once he got out into the car park.

TREVOR BORMANN: Damir Dokic has now been banned from Flushing Meadows. It's the latest in a series of embarrassments. He was also ejected from Wimbledon for being drunk and was involved in a malaise with a television crew at the Australian Open.

Now daughter, Jelena, must apply herself to her US Open campaign. Fans at Flushing Meadows feel sympathy.

DOKIC FAN: I mean, I feel sorry for her most of all, because like how is she supposed to play her match tomorrow, being – like, she started crying over there. Like, why are they doing this? Like, it's ridiculous.

COMPERE: A Jelena Dokic fan at the US Open.