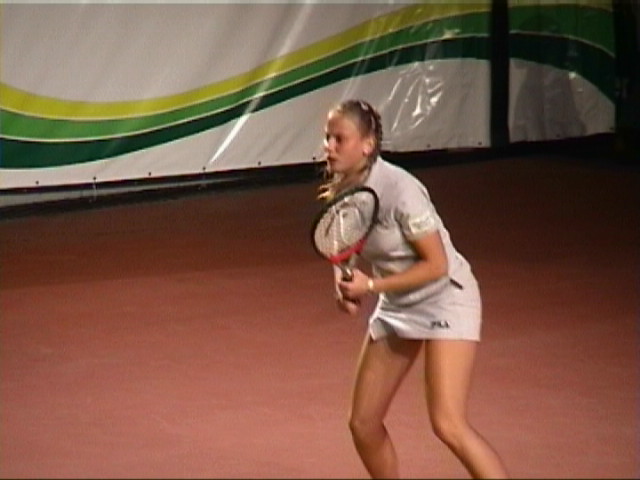 Provide your questions at yuba3000@yahoo.com so they can be put in "Frequently asked question zone".
There have been many speculations about this topic. In all world medias including TV, newspapers, radio stations, and internet presentations, you can find that Jelena was born in the capital of Yugoslavia and Serbia: Belgrade. However, this is not good information. She was born in Osjek city that is in Slavonija and Baranja area, which is mostly inhabited with Serbs.
Who is Jelena playing for?
People asked me this question for hundred times. She is playing definitely for Yugoslavia (country where she was born). As you see, she could not forget her roots. All Australian mates who came on this page (they are welcome as any other) please do not make false statements that Damir (her father) made her to play for Yugoslavia because she said so many times that she is playing for YU by her own will.
Does Jelena have a boyfriend?
All stories that she has been involved with Huan Carlos F. are false. Until now, we do not have info on that. Maybe Jelena wants to keep that part of life strictly private. Some Australian medias have tried so many times to make some love stories about Jelena. They even said someone noticed ring on her left hand finger. Here is what Milan wrote:
Wearing a ring on a right hand finger is a Serbian rule (and other orthodox nations) and we do not believe that wearing a ring on a right hand finger is a bad luck. Even if Jelena is superstitious, wearing a ring on a right hand finger doesn't mean anything to her because it does not apply to Jelena's culture rules. When Jelena came to Australia, she was 13 and she was old enough to know what she is, to know Serbian culture, know who she belongs to, etc. It would have been different if Jelena had been born in Australia. Believe me, it is not as you think it is. I have had the same experience like Jelena, I know it well.
Have you ever talked to Jelena in person?
Yes I have. That was January 2001 during my visit to Hong Kong. She played in the match against Elena Dementieva when I first met her afterwards. We talked. The next day she was playing in the final with Anna Kournikova. She beautiful and nice girl and I look forward in seeing her again this summer in Belgrade or in Hong Kong. I shall make special interview and photos for web site.
What do you know about Jelena's brother?
His name is Savo, he is nine years old, and he has a black belt in
tae kwon do... So guys Jelena has personal body guard. Don't try anything. He is very dangerous. I saw him in the front of the players lounge holding baton. He is with Jelena, defending her at every tournament. Hahahahahaha.
Does Jelena have E-mail for her fans?
So far there is no E-mail that Jelena is using for her fans, but there are two mail addresses you can contact her. I wish you luck.
Is Jelena catholic or orthodox?
People ask whether Jelena accepted to be catholic Christian when she was in Australia. No, she did not. She was raised in orthodox family with Serbian customs and culture. I know Jelena. I have talked to her many times she was in Hong Kong (2001). When I met her first time I wished her marry Christmas. It was an orthodox Christmas, which is about one week later than catholic. She smiled and said: Thanks. That's how we started conversation.... So it is up to parents what is goanna happened but as I said I know for Jelena herself. This is the Milan point of this issue:
Serbian families have long traditions, our family roots are very old. The main problem for Serbs overseas is how to keep their "NEW BORN CHILDREN" in Serbian life style spirit. Many families manage to do that, but some fail. I know many Serbs that were born overseas and now they are 25-28 years old. When I talk to them I feel that they are not like me. On the other hand, I know many people that were born overseas but they did not lose any piece of Serbian culture and when I talk to those I see that they are like me. Their parents did a great job preserving Serbian culture in them. Serbian parents are battling very hard battle for their kids. We are not western cultures, our culture is different. In Jelena's case, she came to Australia when she was 13, she lived there with her parents most of the time, she also lived there with her Serbian cousins, and she hung out with her Serbian friends there. It is totally different story with Jelena because Jelena was already a teenager when she came overseas. Her parents did not have to battle hard to teach Jelena about Serbian culture rules because she has been taught that from the day she was born up to now when she is 18 years old. I bet you that Damir and Ljiljana are very strict parents and I bet you that they did a good job to teach Jelena about the rules. That is what Jelena is always telling you. She is always telling you that she is Serbian and that her country is Yugoslavia, her people are Yugoslavians. Does she have to tell you that 1000 times ??? You really do not understand that we can not switch our religion that easy. We are not new nation like Australians, we are one of the oldest nations in the world and as such we have had our rules from the begining.