Tuesday 3rd September. 2002- Jelena Dokic in exclusive interview talks about politics and tennis.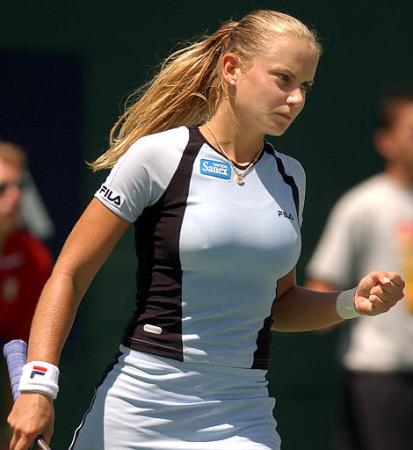 Jelena Dokic gave an interview to National daily newspapers. Jelena came to Belgrade after being defeated in the second round of US OPEN. Lets take a look at what Jelena has to say:
Nobody here wanted to solve my land problem. I wanted to obtain the building permission for my house. Many individuals were promising help when I took Yugoslav passport. I am very disappointed. My feelings will not change the decision to stay and live in Belgrade city. I am glad that I gave support to Vojislav Seselj because the decision came from my hart. I am not a member of the Serbian Radical Party. I am a fan of SRS. Thus I don't see what's wrong if I publicly say what I think. Our (Yugoslav) media accepted my statement as if I did something terribly wrong.
Were you surprised with the sharp public reaction?
I was disappointed with the fact that many media did not publish content of my letter. They did comment the letter by attacking my family and me. I do have certain understanding for them because I heard they are facing censorship. I am very sorry though that the media are trying to turn the public against myself.
Your father announced your presence at the SRS promotional meeting on September 25 in Belgrade.
I am not quite sure about my schedule. Of course I will come if it is possible.
Did the treatment of foreign media and officials change because of the fact that you are world number four at the moment?
Nothing has changed. It does not matter if I am number hundred, number twenty or number one in the world, for them I am still a Serbian girl. I am aware that one who did not experience such a treatment would have troubles in understanding my situation- what is going on around me, but believe me, it is not pleasant. For example, when US open started I was fourth player in the world. They (tournament officials) decided to rank me as a fifth runner up without giving me any explanation.
Did you expect you would enter top five this season?
I hoped I would be in the top ten. I am a bit surprised by the great success- entering the top five. It is not so hard to climb this high. What is hard is to stay in this position. I hope to stay in the top ten until the end of the season. I plan to stay in top for at least few years.
What elements of your game you can improve in order to get to the very peak?
It is very hard question. I have a lot to improve since I am not satisfied with my serve. I would have to approach the net much more during the game.
What about the injuries. Why did that happen?
Late in the last year I had a big break. I did not prepare myself properly for the comeback. I did many tournaments this year so I was under enormous pressure.
Will you play for the Yugoslav national team?
I am taking a pause. I may play for Yugoslav team in about a year. Anyway I would love to play for Yugoslavia.
V. Niskanovic
Disappointed with the media coverage of some fan website/s, first Serbian website dedicated to Jelena Dokic and official website of YUTAF condemns the attitudes and the censorship of those so called fan website/s. Our website had to be raised again so we can establish clear picture over what is happening with Jelena and her career.