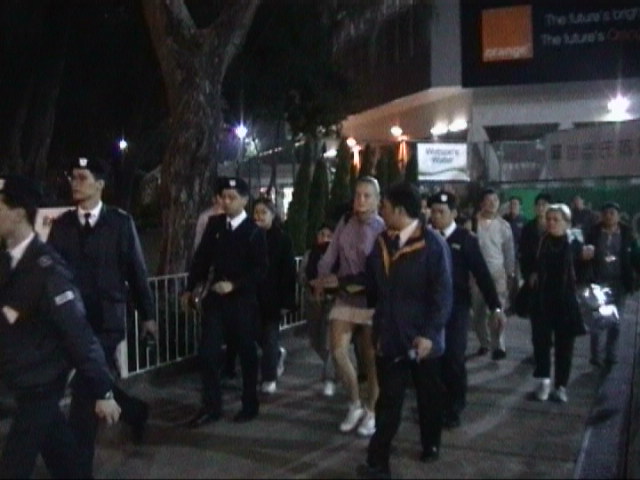 Short info
| | | | |
| --- | --- | --- | --- |
| First and last name | Jelena Dokic | Ime i prezime | Jelena Dokic |
| Nickname | Jeca | Nadimak | Jeca |
| Occupation: | Pro Tennis Player | Posao | profesionalna teniserka |
| Education: | attending High School. | Obrazovanje: | Uci gimnaziju |
| Nationality: | Yugoslavia and Australia | Nacionalnost | Jugoslovenska i Australiska |
| Birth Date: | 12 April, 1983 | Datum rodjenja | 12 april, 1983 |
| Birth Place: | Osijek, Croatia | Mesto rodjenja | Osjek, Hrvatska |
| Residence: | Saddlebrook Way, Wesley Chapel, Florida, USA and Belgrade Yugoslavia | Mesto stanovanja | Saddlebrook Way, Wesley Chapel, Florida, USA i Beograd, Jugoslavija |
| Family | Parents: Damir and Ljilijana and brother Savo | Porodica | Roditelji: Damir i Ljiljana i brat Savo |
| Height: | 173 cm | Visina | 173 cm |
| Weight: | 56,8 kg | Tezina | 56,8 kg |
| Plays: | Right (two handed backhand) | Igra | Desnom rukom (bekhend sa dve) |
| Racquet: | HEAD i.S6 | Reket | HEAD i.S6 |
| Favorite Surface: | Hard Court | Omiljena podloga | Tvrd teren |
| Turned Pro: | 1998 | postala profesionalac | 1998 |
| WTA Tour Title: | 2001 Italian Open (Singles) | titula WTA ture | 2001 Italian Open (u singlu) |
| Exhibition tour title: | 2001 Watson's water, Hong Kong | Egzibicione titule | 2001 Watson's water, Hong Kong |
| Current Coach: | Father Damir Dokic | Sadasnji trener | Otac Damir Dokic |
| WTA Player's Code: | D344 | WTA sifra | D344 |

Answering questions made by young fans in Toronto 2001 before start of the tournament

-What is your favourite surface ? Grass
-Favourite country ? France and maybe Australia
-Favourite opponent ? None really
-Favourite colour ? Blue
-Favourite tournament ? None really, just the grand slams
-Do you have a boyfriend ? That's not a tennis question! No!
-Would you rather win 2 challengers or get to a quarterfinal at the US Open ? US Open
-How many hours did you practice when you were younger ? 2 hours a day
-How many aces have you served in your career ? No idea, I'd say around 2/match
-Are you friends with the Williams sisters ? I talk to them a lot in tournaments, they are really nice and great players..I also talk to their dad..
-Who is your idol ? Steffi Graf

Personal
She enjoys: shopping, roller-balding, going to the beach and listening to
the Spice Girls. ...Likes to visit Rome and Paris...Superstitious about
stepping on the lines on court...Self-described as friendly, out-going, open,
and on-court as determined, motivated and competitive...Most memorable
experience has been participating in the 2000 Olympics...Tennis person most
admired is Monica Selez... Favorite movies are Titanic and Notting Hill;
favorite actors are Julia Roberts, Tom Cruise and Richard Gere.


Jelena had a lot of success in the junior tournaments winning the 98 US Open and
having many other notable performances.

Jelena was at quarterfinal of Wimbledon where she defeated Martina Hingis and
Mary Pierce to get world wide coverage...

Nickname
During my visit to Hong Kong I talked to Jelena. Through that conversation I was talking
to her "Jeca" (which is usually nickname given to girls that are named Jelena). "Jeca"
change to "Jeco" when it is called out in conversation. Also Serbian tradition is to make
middle names from father name so her full name is Jelena Damira Dokic. It is same for
example in Russia so Anna Kournikova middle name is Sergejivna... It is same with boys...
It is an old Serbian tradition is to make middle names from father name. But that name have not been used in every day life. It can be used is some official documents. Damir is not second name. So the name Jelena Damira Dokic and Anna Sergeiyvna Kournikova are used both in Serbian and Russian tradition and they (Damira and Sergeyivna) are not so "important" as names in other countries.

Tennis Coaches
Nead Trifunovic her first tennis coach in Osjek
Josip Molnar trained her when she was in Sombor. He was tennis coach of Monica Selez
Kim Warwick was her first tennis coach in Australia at age of 11
Craig Miller her first tennis coach who spotted her talent in Australia.
Lesley Turner-Bowrey Australia's Fed Cup captain.
Wally Masur Former Australian Davis Cup player coached her on part time basis
Anthony Dalton Roche Australia's Davis Cup coach from 1994 to 2000.
Pam Whytcross Former professional player. WTA tour director. She was at WTA mentor program.
Chris Kachel Former professional player - from 1973 to 1980
John Trickey Former professional player. Australia's national women's tennis development coach.
Menagment and conntact
So far there is no E-mail that Jelena is using for her funs, but there are two mail
addresses you can contact her. I wish you luck.

Advantage international Inc.
PO Box 3297, North Burnley, 3121 Victoria, Australia
phone: +061-03-9427-9655
Australian manager: John McCurdy

Octagon Athlete Represenation
663 Victoria St. Suite 16, Abbotsford, 3067 Victoria, Australia
phone: +061-03-9427-9655
International manager: Ivan Brixi

Thanks a lot to dhbvg87 From Kobe, Japan who made Jelena Dokic tour results for
the fallowing text:
Birth Place:
Miss Dokic was born in Osijek in April 1983.
Osijek is the important city with the long history in Slavonia and
Barania district of the Croatia eastern part. It is situated on the river
Drava, the branch of the Danube.
Residence:
The Dokics left Osijek on 21st June, 1991 to Sombor and immigrated into Australia in June 1994
to flee from the dismemberment war of Yugoslavia, depending on relatives in Sydney. She was 11
years old at the time. She had been living in Fairfield from 1994 to 2001 with her family - parents
and younger brother. The City of Fairfield is located in a 40km drive south west of Sydney, Australia.
The Dokics left Australia in February 2001 to live in Florida, USA. She had already bought a house
in Saddlebrook, Florida in 2000 for hard-court season in USA. Saddlebrook is located 20 km
north of Tampa and in a 30 minutes drive from the Tampa International Airport. Jennifer Capriati
lives nearby at Saddlebrook Way Wesley Chapel as a longtime resident. Other neighbors are
Martina Hingis, rising star Ashley Harkleroad and Ai Sugiyama of Japan.
It seems that she will buy a house in Belgrade, Yugoslavia at the end of April 2001 for
European tournaments.


HEAD i.S6 - consumers' model spec. (February, 2001 -)

| | |
| --- | --- |
| Length : | 27 1/2 inch |
| Head Size : | 102 sq.in. (mid-plus) |
| Weight : | 240 g (unstrung) |
| Balance : | 360 mm (unstrung) |
| Beam : | 26 mm (box shape) |
| Stringing : | 16M/20C |
| Grip : | ComforTac |
| Material : | Titanium/graphite composite |
HEAD Ti.S2 - consumers' model spec.

| | |
| --- | --- |
| Length : | 27 1/2 inch |
| Head Size : | 102 sq.in. (mid-plus) |
| Weight : | 245 g (unstrung) |
| Balance : | 360 mm (unstrung) |
| Beam : | 25 mm (box shape) |
| Stringing : | 18M/19C |
| Grip : | SofTac |
| Material : | Titanium/graphite composite |

Clothes & Shoes.
FILA
She has been sponsored clothes and shoes by Fila since April or May 1999.
Until then, she was with Nike (and Prince, Yonex), but there were no major sponsorship deals yet.
On Court Habits.
Have you noticed some else more ?
Superstitious about stepping on the lines.
Using the same racquet and wear as having used in winning matches.
Blowing a breath to cool her right palm before receiving serve.
Bouncing the ball 5 times before the 1st serve and 2 times with the 2nd serve.
Receiving bolls from the ball-person of her fore-hand side in a service game.
Preferring as always as possible the bench on the left-hand side of a referee stand.
reported by mamis and Saya
Preferring sitting on the right-hand side of a bench and turning to the left-hand side partner in a doubles match. -- reported by mamis
Bringing 2 racquets into a practice court.
Favorite Foods.
Pasta and Fruit
She reportedly has said in 1999: "Depends when I play, but mainly high energy foods - pasta and fruit," to the question "What do you eat the night before a game?".
In the interview for "New Idea" magazine published in Australia on April, 2001, she reportedly said that she was always eating half a watermelon, a rock melon, half a kilo of strawberries and some pears every day.
The following is a recipe for making "The Food of Champions" by her father.

Serbian Goulash (Stew)
1. Sauté 2 onions in olive oil until golden brown
2. Add 1.5 kg of diced lamb
3. Add 2 bay leaves and 4 heaped tablespoons of tomato paste
4. Add enough water to cover the meat
5. Allow to simmer for approximately 20 minutes
6. Stir in a tablespoon of fresh paprika and a large red chili
7. Add 2 kg of chopped potatoes and let this simmer for approximately another 20 to 30 minutes before serving (serves 4-6)
--- reported by Burke's Backyard Online (NSW, Australia) in August 2000.